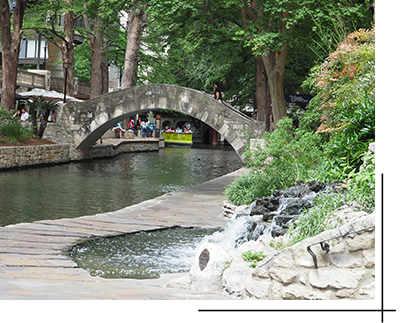 From the waters of the San Antonio River spring forth a vibrant city rich in over three centuries of tradition!

According to legend, a Spanish missionary traveling through Texas came upon a tribe of Payaya Indians who lived among the wild grapes and Cypress Trees upon the banks of a sparkling oasis.

The oasis they had found was named Rio Saint Antonio de Padua, from whence The San Antonio River derives its name.

Today you can dine at some of San Antonio's finest restaurants, or shop in style along The Riviera of Texas!
---




San Antonio Riverwalk Restaurants



Paloma Riverwalk
Enjoy delicious Mexican Continental cuisine with a beautiful view of the Riverwalk. Located one block away from the Alamo in the heart of San Antonio.
www.PalomaRiverwalk.com/


The Iron Cactus
The Iron Cactus blends integral Mexican attributes with a progressive technique to create unique and flavorful dishes. Named one of the top ten tequila bars in the country featuring over 80 selections of tequila from Mexico and specialize in a variety of margaritas and tequila drinks unique to Texas.
www.ironcactus.com/


Boudros
It¡¯s contemporary cuisine with a cutting edge featuring the flavor of our regional heritage with a distinctive menu of Texas and southwestern specialties.
www.Boudros.com/


Casa Rio
The first restaurant on The San Antonio Riverwalk. Featuring great Mexican Food and one of the best Riverwalk locations in San Antonio.
wwwCasa-Rio.com


Fig Tree
Simple elegance in La Villita, Fig Tree celebrates tradition in a gracious setting just steps away from the Riverwalk. Fig Tree evokes a congenial spirit for business, entertaining, and social occasions.
wwwFigTreeRestaurant.com/


Biga
Eclectic Cuisine upon the Banks of The San Antonio River. Our gourmet menu is as colorful as the season. Voted ¡°Best¡± by the San Antonio Express-News. Fine Dining at its best.
www.Biga.com/


Paesanos
Offering Mediterranean Specialties and Contemporary Italian Cuisine on The Banks of The San Antonio River.
www.PaesanosRiverwalk.com/


La Posada Del Rey
One of San Antonio¡¯s most unique Mexican Restaurants. Since 1974 this family owned and operated restaurant has been serving its own special recipes of delicious authentic Mexican dishes.
www.LaPosadaDelRey.com/


Jim Cullum's Landing
The menu of the Landing features fine cuisine, fine liquors, gourmet coffees, pies and cheesecake, and above all the hottest of hot jazz.
www.Landing.com/


Landry's Seafood House
Landry's Seafood House features an array of exquisite recipes that include fresh seafood selections from across the states. From enticing appetizers and assorted salads to seafood platters.
www.LandrysSeafoodHouse.com/


The County Line
This Riverwalk restaurant specializes in slow-smoked barbecue-succulent brisket, ribs, sausage, chicken and even peppered turkey breast-all served in huge portions at ridiculously low prices.
wwwCountyLine.com/


Zuni Grill
Zuni Grill features Southwest cuisine that's an eclectic blend of South Texas favorites, grilled specialties, the freshest ingredients, and inspired combination by award-winning chefs. Offering and open-air view of the River Walk scene, amidst a relaxed and colorful setting shaded by towering cypress trees.
wwwZuniGrill.com/


Hard Rock Cafe
The Hard Rock Cafe features a fun food and drinks along the San Antonio RiverWalk. Visitors can browse the RocknRoll Museum while they enjoy Burgers and Beer along the San Antonio River.
Hard Rock Cafe


The Little Rhein Steakhouse
Located in La Villita on the Riverwalk, the Little Rhein Steak House is recognized for its USDA steaks, expansive wine list, and rustic charm. Renowned movie stars, musicians, athletes, political leaders and local celebrities have relished the Little Rhein dining experience since 1967.
Little Rhein Steakhouse


Rainforest Cafe
Dine on fun food surrounded by animated Gorillas in a tropical rain forest surrounded by animated animal. Fun for the entire family.
The Rainforest Cafe


Dick's Last Resort
Hot food cold beer & sassy service on the San Antonio Riverwalk. Dine on Ribs, Shrimp, Chicken and cool off with cold beer on The San Antonio River.
www.DicksLastResort.com/








© Copyright 1994 - 2013 by AlamoCity.com All rights reserved. Reproduction in part or whole without written permission is prohibited
Send comments to gcrumpton@yahoo.com
San Antonio SEO by NtegrityIT.com.

san antonio texas www web site design world wide web web site authoring writing creating